Massachusetts Database Development
ISG is a Massachusetts corporation that has designed and developed custom software applications since 1993. If you are you looking for a custom database solution, we can help. Our database developers have experience working with all of the major database products and available tool sets. We build sophisticated database driven smart client and web applications designed to meet your specific needs. Our database consultants and database design team can analyze your business requirements and help you design and implement a database solution or our database programmers can help improve the performance of your existing database software. Some of ISG's custom database services include:

Do you have an existing database driven software product that isn't integrated with your business software applications? Do your database reporting systems fail to deliver timely, accurate information? Could you use some help with database integration or custom database development in Massachusetts? Or maybe you need assistance with an existing MSSQL, MySQL, Oracle, or Access database application? ISG's database development team can help you design, develop, and install custom database software that addresses the exact needs of your business, and our database architects can normalize your existing databases to improve overall reliability and performance. ISG can also integrate custom database software and orphaned database products. We have several integration tool kits that allow us to connect even the most difficult products.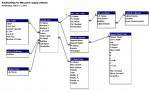 It takes an experienced database developer to create an effective database driven website. Multi-user performance considerations, browser compatibility, browser / server interaction, and database performance issues all need to be taken into account during database website development. ISG's web database development team is committed to delivering reliable, high quality custom database solutions to its clients. We use the latest ASP database development tools and .NET application development techniques to enhance the integrity of our web database products and our database programmers use stored procedures and database triggers to insure maximum database performance. We combine superior web database design and high performance web database programming to create a professional database driven website for your business.

In addition to Massachusetts Database Development, ISG provides database programming and database development services for MSSQL, MySQL, and Access databases. We use the latest development technologies including .NET, ASP.NET, and VB.NET to insure that your custom database application will function properly. Our experienced database developers can work directly with your in-house staff or, if the situation dictates, develop the entire project from design through training and implementation. Call The Integrated Solution Group today for a free consultation about data warehouse development, custom data mining solutions, web database programming and custom web site database development. Massachusetts Database Development services.