Case Study: Integrated Salesperson Quoting System – General Builders
Background: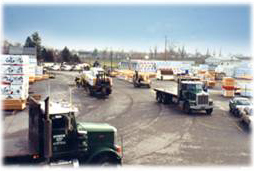 General Builders (GBS), a subsidiary of Stock Building Supply has been serving New England since the 1940′s. A leader in building supplies and service, GBS is one of the largest suppliers of lumber and building materials in the Northeast. General Builders provides building materials, pre-built panels, kitchen and bathroom supplies, finish work installations, doors and windows, and custom millwork products.
GBS was experiencing significant growth ,as sales increased , the need for managing system information and quoting grew substantially. In order to be able to quote the end-user customer and the outside sales force, GBS, looked to ISG for improved efficiency. General Builders requested cost effective solutions in order to handle changes and efficiently track orders.
General Builders Objectives:
Provide ability to allow inside sales force to import quotes from PC based package.
Create tools for inside sales force to maintain and adjust quotes/orders.
Provide effective tools to improve efficiency of sales process.
Reduce exorbitant cost of pre-printed forms.
Eliminate the need for high maintenance printers for multi-part forms.
Improve sales process by decreasing turn-around time on quotes and invoices.
Allow inside sales representatives to manage quotes and orders by product type and margin.
Eliminate existing lease packages and obsolete equipment.
ISG Solution:
ISG reviewed the sales procedures and processes of General Builders and then developed a solution to meet their needs. ISG started by modifying the existing software to allow the sales team to import and export quotes from multiple sources. This modification allowed the inside sales team to study gross margins by product type, which provided GBS with the ability to quote more effectively. By reducing the margin on certain lines, and increasing it on others, GBS quickly became a leader in the region. The ISG solution also allowed GBS to consolidate like orders and purchase in bulk which reduced material costs.
The next phase of the project involved evaluating the GBS pre-printed forms that were being used. ISG recommended and implemented a laser forms package to print all GBS quotes and invoices. This gave GBS the ability to fax quotes and invoices directly to their customers, reducing the time each person was spending at the fax machine. It also reduced the number of erroneous faxes per day, since many faxes never were sent ,because of fax machine busy signals.
The ISG solutions improved the sales quotation process by reducing turnaround times, from days to hours.  The program was so successful that GBS requested ISG to implement a similar solution to assist their purchasing department.
Estimated General Builders Savings:
GBS estimates the first year saving in pre-printed alone was in excess of $25,000. GBS replaced manual faxing of quotes and orders to an automated Unix fax dispatch process. Automated Faxes to customers and vendors allowed employees more time to better serve their customers. The improved business practice allowed GBS to become a sales leader in the New England region and achieve a higher level of customer service.
Contact ISG today to find out how we can build a custom database solution for your organization.