Software Integration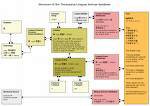 We have the software products, the people, and the proven performance record to help you deploy the appropriate level of automation for your operation, and within your budget. Our team will review your current processes in accordance with productivity goals, labor constraints, forecasted demand, and capital budget. This detailed evaluation generates the concept and design criteria for incremental system improvements through the use of our 3rd party products or custom software. Our skilled team works in collaboration with your managers to insure your systems are completed on time and without disruption.
Our integration solutions include the development of custom software necessary to improve and monitor server process control, development of timed and conditional controls, as well as reverse engineering and replacement of obsolete software components. One recent project involved the decoding and creation of interface control modules for conveyor system controllers using compiled software, for which no source code was available and the original author could not be located. Another project involved the design and construction of a service monitoring system to insure that all necessary web server processes were running and that designated support personnel would automatically be notified of failures.
Some of the products we have integrated include: SavWare automatic switching backup server, Vsi-Fax, Add-On Software, UA Software, UnForm Laser Forms and Fedex/UPS Worldship shipping system integration. Contact ISG today to discuss your unique software integration requirements and our custom business software solutions.

Need database integration services? Does your 'stand alone' software share that valuable information with your other business systems? Are you tired of inaccurate or missing data caused by human error? Still depending on archaic methods for data exchange? If you answered yes to one of these questions, ISG can help. Since 1993 The Integrated Solution Group, Inc. has designed and built hundreds of custom software applications. Our experienced database consultants will help you organize your business requirements and define your database integration needs, and our database programmers can build a custom database software application that will help you run your business. ISG also provides Database development services including database design and development, custom database programming, and web database development. Our database integration experts have years of experience and can find solutions to connect all of your business software products. One of our specialties is shipping system integration (UPS Worldship and FedEx Shipment Manager), but we can integrate virtually any software package.
ISG custom software is designed, built, and supported in America.
The Integrated Solution Group, Inc. – Making Software Products Work Together.