Case Study: Speaker Bureau Work Management System – American Program Bureau
Background:
An innovator in the lecture industry, American Program Bureau (APB) is responsible for booking the scheduled appearances of a roster of noteworthy speakers including celebrities, business authorities, media personalities, national and global leaders, financial and economy experts, motivators, and acclaimed performing artists. Increased competition, combined with a tight labor market, compelled APB to seek ways to improve its processing environment.
APB Objectives: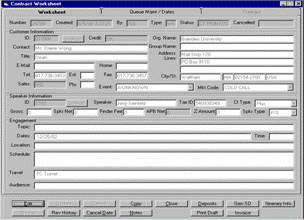 Expand information capture capabilities
Operating on a legacy software system, APB was only able to capture basic information relating to its customers and speakers. What they needed was a product that would allow them to link multiple entities in their customer database and to create relationships between speakers, agents, and administrative personnel. They also wanted to capture additional information such as car phone, cell phone, email, and a broad array of other pertinent data.
Upgrade internal processes
Because APB sales agents performed many tasks manually, internal procedures often varied from person to person. APB wanted to establish a uniform processing methodology to insure that all transactions were handled in a manner consistent with their business objectives. They also wanted to streamline the process of booking and scheduling speaker engagement.
Improve customer/speaker communications
APB specifications required that replacement software be capable of supporting email, desktop faxing, and word processing integration. Because they planned on expanding their web site, they also requested that the system be capable of interacting with the web software.
ISG Solution:
Following a thorough review of APB's operation ISG confirmed the need for a comprehensive work management system that would combine an expanded database of customer and speaker information. To insure data integrity and to facilitate the communication requirements as outlined by APB, ISG proposed the development of replacement software utilizing a Microsoft SQL Server database and Microsoft Office desktop products. The resulting product, Contract Management System (CMS), contains the following components:
Expanded customer/speaker databases
Using parent/child relationships, ISG developed a database structure that allows APB to maintain unlimited contacts for its customers and speakers. Required communications data such as email address, multiple telephone numbers, and additional profile data are contained in these records. Speaker calendars also allow for blackout dates to avoid scheduling of non-available resources.
Process management

CMS employs a life cycle design. Potential speaker engagements start the process as a worksheet of customer requirements then progress through several controlled stages. First speakers matching the required profiles are selected and checked for availability on the requested play date. Qualifying speakers are discussed with the customer until a suitable match is found. When a proposed engagement is accepted by the customer the speaker is automatically sent a speaker engagement request. Upon speaker confirmation of availability and acceptance of financial terms, the event is booked and entered into the contract management queues. All corresponding events such as contract review and printing, billing of deposit, travel arrangements, speaker confirmation and final billing are handled by the system. Features such as diary notes and transaction processing history provide a detailed audit trail of all activity related to scheduled event.
Web site integration
Custom database tables were designed to facilitate capture of web site related information. Updated speaker information is launched via a web update key and subsequently transferred to the web site via FTP file transfers.
Additional features include automated collection and reporting of email and telephone statistics and compilation of related sales activity, and custom reporting via Access and Crystal Reports
Contact ISG today to find out how our database development services can benefit your organization.