eCommerce Business Solution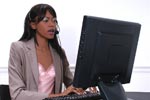 Are you looking for an eCommerce business solution? Do you have ideas on expanding your company but simply lack the custom software to do so? Can you reduce your operating costs or improve customer loyalty by expanding your services to the Internet? The Integrated Solution Group can help you find answers to these, and other, technology questions. Our experienced software consultants will catalog your business rules and requirements, and our software designers will create an effective eCommerce business solution design geared to your precise requirements. Many new business applications are being designed and built with full Internet capabilities. Customers can now buy online, track their order status, obtain tracking information, etc. without ever speaking with a customer service agent. Executives can access vital information while on the road and workers can perform their duties from the comfort of their own home. In effect, the world has become one giant network providing businesses countless opportunities to improve efficiencies, reduce overhead, improve customer service, and increase profitability. If your customers don't currently have web access to your organization then you are probably losing business to your competitors. An effective eCommerce solution can help you improve your business and retain your valuable customers. ISG can design and build high performance custom eCommerce software tailored to the exact needs of your business and your customers.

ISG's software consultants can help you evaluate your business requirements, recommend and install a packaged eCommerce business solution, provide software design solutions, develop custom software, and provide business software development or software integration services. ISG can help you insure that your business software systems meet your operational objectives. We have extensive experience in system analysis, database design, business software design, custom software development, installation, training and support on a variety of operating systems, languages, and custom software solutions.
We can also work with your existing staff to develop an effective eCommerce software development process, and best of all, we deliver full source code with all of our completed custom e Commerce software solutions. If you feel that your business is falling behind, or you're tired of hearing your customers complain, we can build an eCommerce software solution for you.
Web Database Programming e-Commerce

High performance database software doesn't just happen. ISG's database design and development team is committed to delivering reliable, high quality custom database solutions to its clients. We use the latest modeling tools to enhance the integrity of our database products and our database programmers use stored procedures and database triggers to insure maximum database performance. ISG can also provide professional software solutions for your web database development needs. We combine superior web database design and high performance web database programming to create a professional database driven website for your business. ISG's web database programmers use the latest .NET application development methodologies and web database design tools for our web database development. Other custom business software services we provide include Business productivity software, B2B and B2C custom eCommerce software solutions, as well as custom eCommerce web sites and web based customer service solutions.
We can help you design high performance custom database software that will power your business on the world wide web. ISG custom software solutions are designed and built in America.
Contact The Integrated Solution Group today for custom database programming and custom web site database development.