eCommerce Web Site Builder
Web Site Builder eCommerce

Are you looking for an experienced eCommerce web site builder to help create an Internet presence for your business? Having trouble integrating your business software with your Internet software applications? Then you should consider custom eCommerce software development by The Integrated Solution Group. A lot of companies offer eCommerce solutions but very few offer an integrated software package to improve your business. Our experienced staff will assist you in creating a custom eCommerce solution specifically designed for your company's unique needs. Why should your employees have to re-enter the data into another system to create mailing ists, run reports etc. With a custom eCommerce solution from ISG, you could manage all of your front end and back end operations in one robust system. The possibilities are endless and the rewards staggering, but how do you retool your business to take full advantage of all the Internet has to offer? ISG can provide eCommerce web site design and custom eCommerce software development services to help you achieve your goals. We can customize existing eCommerce software packages to suit your needs or design and build a custom eCommerce web site for you.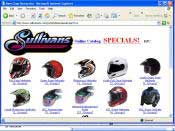 If you don't currently have effective Internet software for your business then you are probably losing business to your competitors. An effective eCommerce solution can help you improve your business and retain your valuable customers. ISG's eCommerce software consultants can design and build effective custom eCommerce software tailored to the exact needs of your business and your customers. Our eCommerce web site development services can help you build your business on the web.If you feel that your business is falling behind, or you're tired of hearing your customers complain, we can build an eCommerce software solution for you. Our custom web programming staff will construct the site to your unique requirements using the best available technologies. ISG's custom web software and custom web application development typically includes:
Microsoft .Net Technology
ASP.Net Active Server Pages
Integrated MSSQL Database
Admin Control Panel
Integrated Windows Service Controls
Delivered with Full Source Code
Web Database Programming e-Commerce

Does your organization need an eCommerce web site? Can't find an 'out of the box' solution that suits your requirements? ISG can help with your web database development needs. We combine superior web database design and high performance web database programming to create an optimum professional database driven website for your business. ISG's web database programmers use the latest .NET application development methodologies and web database design tools for web database development. Our custom database development team supports current Microsoft web development technologies including .NET versions 1 and 2, ASP.NET, and VB.NET and, if you have other business processes that need to communicate with your corporate website, our database integration team can help you tie it all together. Contact The Integrated Solution Group today for custom database programming and custom web site database development. If you need web database development we can evaluate your requirements and provide a comprehensive web database design.
ISG has been helping customers since 1993 with database design, database development, and database integration and we believe in our continuing commitment to our customers in finding the best possible technology solutions for their web applications. We can help you design high performance custom software that gets the job done and we support what we sell.
Don't let your business fall behind your competitors. Our mission is to help our business partners maximize their performance by leveraging Internet technologies.
We can help you design high performance custom database software that will power your business on the world wide web. ISG custom software solutions are designed and built in America.