Arizona Custom Bar Code Software
Custom Bar Code Software Development Arizona
Are you looking for a software company that can design and build custom bar code software in Arizona? Need improvements in your warehouse management system? If so, ISG can help. We have experience building custom bar code and warehouse management solutions for a variety of industries and get help you avoid the pitfalls associated with implementing a bar code system. There is more to custom bar code software development than just adding a bar code scanner (also known as a bar code reader). Most business software solutions do not contain efficient bar code modules. To be reasonably effective, bar code scanning software needs to be written in a manner that allows for random processing of scanned data. An example of this would be the packing and shipping of an order. Most software products require that you select a line item and enter quantities to process that item, whereas properly designed bar code scanner software would allow for the random scanning of the bar code labels, totally independent of the items placement on the order. Additional considerations also need to be given to the human interface of bar code software. Audible tones are used to alert the operator if error conditions such as bad bar code label, incorrect items, over shipments, etc., occur. Screen use is minimized and operators are encouraged to work with the bar code scanner, rather than the keyboard or screen. Where applicable, ISG designs these scanning features into its high performance custom bar code software solutions.
The custom software isn't the only consideration when developing bar code software applications. Equipment selection is also a key component to installing an effective bar code solution. First you need to determine what the actual requirements are. Do the bar code labels already exist or will you need to create them. Some labels, such as the upc bar code labels common on super market items, are widely  recognized and handled by most bar code equipment. Others might not be as easily recognized and may require special bar code symbology to be properly read. The type and size of the labels can also be a factor.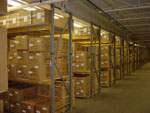 A long range wireless bar code scanner can be an effective tool but is often limited by the size and quality of the label. Size and weight of the bar code scanner can also be a factor in equipment selection. Inexpensive, tethered (wired) scanners can be effective when the product can be brought to the scanner (or passes by on a conveyor) but are not suitable when heavy items can't be moved to the scanner. An un-tethered (cordless) bar code scanner or a hand held bar code scanner is a better choice in that situation. It pays to do your homework. Properly designed bar code software combined with the correct bar code scanner, can significantly improve the performance and efficiency of your warehouse.
Arizona Custom Business Software | Arizona Custom Software

Since its inception in 1993, The Integrated Solution Group, Inc. has built hundreds of custom business software applications. Working directly with our clients, we provide custom software solutions and  software integration services for a wide variety of industries. We deliver value by designing and building custom business software solutions designed to improve the operating performance of your company. Our experienced software developers can help you evaluate your business software needs and build a custom accounting software product or custom eCommerce software solution tailored to the specific needs of your business. ISG also offers business software consulting business, software design, custom software development and implementation of proven, cost effective business software solutions. At ISG we are serious about business software development and client success is our number one priority. If you are looking to exploit new business ideas on the Internet or find logical solutions to your business computing problems, ISG can help.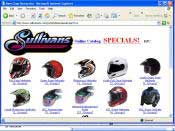 Do you need custom Internet software or web database development to put your business on the world wide web? Are you looking for Internet accounting software or Internet business software  to improve your business? Can you reduce your operating costs or improve customer loyalty be expanding your services to the Internet? It's no secret that many successful companies depend on an Internet web site to improve their business performance by allowing customers to place orders, check their order status, and to perform any number of business transactions via the corporate web site. If your customers don't currently have web access to your organization then you are probably losing business to your competitors. An effective eCommerce solution can help you improve your business and retain your valuable customers. ISG can design and build high performance custom eCommerce software tailored to the exact needs of your business and your customers.
Quality custom software from an experienced software development company. ISG custom software is designed, built and supported in the USA. Contact ISG today to discuss custom software development, custom programming and custom software integration in Arizona. We have custom Internet software and business software solutions for your business.