Hawaii Database Design
Looking for assistance with an important database development project in Hawaii? Are you seeking a company experienced in the design and development of custom MSSQL, MySQL, Oracle, or Access database software? The Integrated Solution Group, Inc. works both locally and remotely with clients throughout the US and Canada. We develop both smart client and database driven web applications. Our database consultants and database design team can collect and evaluate your business requirements and help you design a reliable, robust custom database solution. ISG's custom database services include, but are not limited to:
The Integrated Solution Group, Inc. has provided custom database services since 1993. ISG database consultants can help you evaluate your custom database needs and our database development team can build a custom database application tailored to the exact needs of your business. In addition to database design and development, ISG provides a broad array of database development services including custom database programming, database integration, and web database development. Our clients range from small organizations to large Fortune 500 companies and yes, we will work in Hawaii. We can work independently, or with your technology team, to design and build a custom database software application for your business. Let us show you how to improve data integrity, enhance your reporting systems, and integrate your database software products.
ISG Announces Launch of Title and Tag Vehicle Registration Website in Hawaii
In conjunction with Manheim Hawaii, ISG is proud to announce the launch of a new Hawaii vehicle registration system designed to streamline the registration process. The new system, directly connected to Hawaii DMV, is a designed to allow dealers and fleet owners to validate and register vehicles on the HDMV mainframe in accordance with all HDMV rules and regulations and features the latest HDMV inncovations such as Certificate of Registration printing with decal, plain paper Application for Title (Maui and Hawaii counties), and title ready notification service. Contact ISG to discuss Title and Tag services.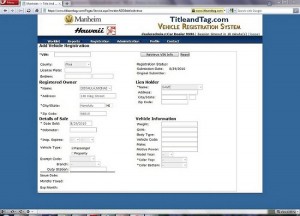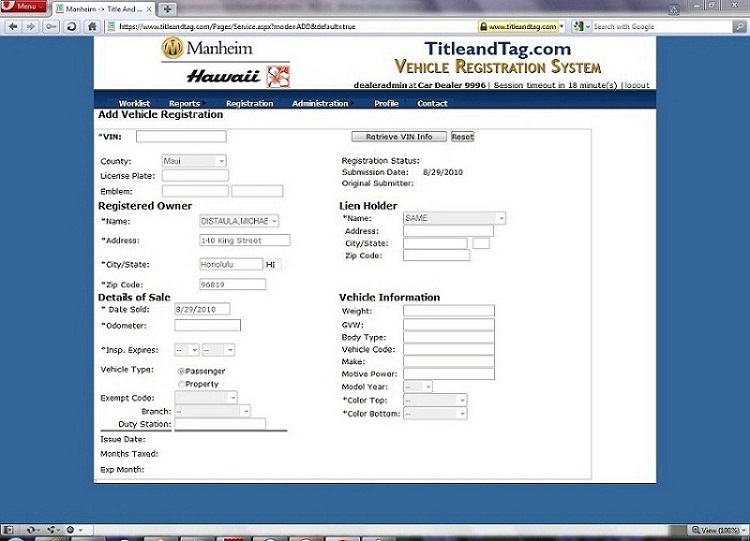 ISG has developed hundreds of custom database software and database driven web site solutions for our clients. If you have a business software problem, or if you have an idea for custom database software that will help streamline your business operations, ISG can design and build the appropriate database software for you. Our custom software solutions include, but are not limited to the following:
Database Driven Web Sites for ecommerce and custom business applications such as Charterbus America and Sullivans Inc., one of the world's largest motorcycle accessory distributors.
Warehouse Management: ISG has developed sophisticated inventory control and warehouse management systems for a variety of wholesale distribution requirements including a conveyorized 460,000 SF warehouse including custom bar code software with 50+ radio frequency bar code scanners, integrated database, and custom software designed to integrate and control all conveyor functions.
Electronic Data Exchange: If you need EDI integration for your business ISG can help. Our EDI solutions include custom software development of the software necessary to extract the necessary EDI data for transport, and the software necessary to update incoming EDI data into your business software applications. Among others, ISG has implemented EDI software solutions with Michilin, Goodyear, and Bridgestone/Firestone.
Custom Business Software: ISG business software solutions are designed to solve business problems not addressed by standard, 'off the shelf' software. Since 1993 we have built numerous custom accounting software solutions and customized call center applications for prestigious companies such as H.H Brown and The Cross Country Group.
Custom e-Commerce Software: Business solutions for the world wide web. In addition to designing and building custom e-Commerce web sites, ISG also distributes CommerceLink, a customizable e-Commerce software solution.
The Integrated Solution Group has provided custom programming services and database development services to numerous organizations ranging from small businesses to Fortune 500 companies since 1993. Database development by experienced software professionals.