Illinois Custom Database Programming
Successful custom database applications don't just happen. They are the result of careful planning and attention to detail. An experienced database designer will collect business rules and user requirements to determine what information the database needs to handle and how that information should be stored. Performance is directly effected by database design and structure. Omit key indexes and your database will act sluggish. Add server side stored procedures and watch that slow application pick up speed. A good database design will insure a reliable, robust database solution. If you need database assistance in Illinois, we can help. ISG's database development services include: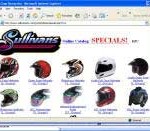 Do you have a custom database software application that you want to run on the Internet? Having trouble deciding where to start? The Integrated Solution Group, Inc. has provided custom database services since 1993. ISG database consultants can help you evaluate your custom database needs and our web database development team can build a database driven website tailored to the exact needs of your business. In addition to web database design and database website development, ISG provides a broad array of professional database development services including custom database programming, web database integration, and ASP database development. We can develop a professional database driven website design for your business. Our clients range from small organizations to large Fortune 500 companies. We can work independently, or with your technology team, to design and build a custom database software application for your business. Let us show you how our web database development services can improve your business.

In addition to custom database application development, ISG also provides web database development services using the latest .NET application development methodologies and web database design tools for MSSQL, MySQL, Oracle, and Access databases. We use the latest development technologies including .NET versions 1 and 2, ASP.NET, and VB.NET to insure that your custom database application will achieve maximum performance. Our experienced database developers can work directly with your in-house staff or, if the situation dictates, develop the entire project from design through training and implementation. ISG database integration personnel can also help you integrate existing custom database software with your eCommerce web site.
Database development by experienced software professionals.