Louisiana Database Software Development
SQL Server, MySQL, Oracle, and Access database development services available in Louisiana. Local and remote services available. Professional database design and consulting. Database normalization and database integration services provided by experienced professionals in business since 1993. Smart client and database driven web sites developed in C## and ,NET technologies. Contact ISG for a free consultation regarding your database development or database design requirements. Additional services include: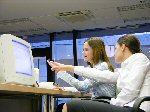 Need help with your database? Do you want to get more out of your business software but don't know where to start? Are you frustrated by a lack of meaningful information from ineffective reporting systems? ISG can help. Our experienced database consultants will help you create a database design configured to the exact needs of your business and our custom database software will help you capture and manage all of your important business data. Our database consultants and custom database design team will analyze your business requirements and help you design and implement a custom database solution that will improve the performance of your business. At ISG we take database consulting seriously. We use the latest Microsoft technologies to insure that our database designs and custom database solutions are fast, accurate, and reliable.
Do you need an experienced professional to design custom database software for your business? Our database consulting  team and experienced database development professionals can design and build a custom database solution that addresses your unique business requirements and innovative software strategies. Our software development life cycle methodology includes documentation of your project objectives, a comprehensive study of your business processing rules, a detailed system design including user interface requirements, processing rules and requirements, database design and database model, as well as detailed testing and implementation plans. ISG database programming personnel use the latest Microsoft tools and methods to create a quality custom database solution and the entire database application development process is monitored by our project management and quality control staff.
Contact The Integrated Solution Group today and find out how our database development team can help improve the reliability and performance of information technology.