Maine Web Database Development
Are you looking for a New England based database services company for a custom database application development project in Maine? Need a smart client or database driven web application developed in C# or .NET? Looking for an experienced database designer who can create the proper indexes and build a normalized database? The Integrated Solution Group, Inc. (ISG) is a Massachusetts corporation available for local or remote assignments in Maine. Since our founding in 1993, we have developed hundreds of custom software applications for a wide variety of industries and we can build one for you. We support most major databases including MSSQL, MySQL, Oracle, and Access.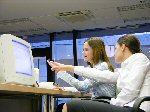 The Integrated Solution Group, Inc. provides custom database software development for a wide variety of industries.  We have developed hundreds of custom business software applications and custom eCommerce software solutions for our clients. If you have a business software problem, or if you have an idea for custom database software that will help streamline your business operations, ISG can design and build the appropriate database software for you. Our custom software solutions include, but are not limited to the following:
Database Driven Web Sites Sophisticated web database development for ecommerce and custom business applications such as Charterbus America and Sullivans Inc., one of the world's largest motorcycle accessory distributors.
Warehouse Management: ISG has developed sophisticated inventory control and warehouse management systems for a variety of wholesale distribution requirements including a conveyorized 460,000 SF warehouse including custom bar code software with 50+ radio frequency bar code scanners and custom software designed to integrate and control all conveyor functions.
Electronic Data Exchange: If you need EDI integration to exchange data with your trading partners, ISG can help. Our EDI database solutions include custom software development of the software necessary to extract the necessary EDI data for transport, and the software necessary to update incoming EDI data into your business software applications. Among others, ISG has implemented EDI software solutions with Michilin, Goodyear, and Bridgestone/Firestone.
Custom Database Software: ISG database software solutions are designed to solve business problems not addressed by standard, 'off the shelf' database software solutions. Since 1993 we have designed and built numerous database driven smart-client and web based business software applications.
Custom e-Commerce Software: Business database solutions for the world wide web. In addition to designing and building custom e-Commerce web sites, ISG also distributes CommerceLink, a customizable e-Commerce software solution.
Contact The Integrated Solution Group for detailed information about our database development services.