New Hampshire Database Development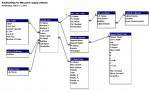 Are you looking for a local company to help with database development, database consulting or database design in New Hampshire? ISG is a Massachusetts corporation servicing all New England states and we may be able to help you with your database application development or web database programming for your B2B or B2C eCommerce web site. Our database consultants and database design team have many years of experience working with a broad spectrum of clients and they can help analyze your business requirements, create an effective database software design for your organization, and work with you to get the resulting database software installed and fully operational. We provide custom MSSQL, MySQL, and Access databases designed and built with performance in mind. Our databases are fully normalized and we use stored procedures and triggers to optimize performance and improve operational reliability. When necessary, ISG can also help with stalled or abandoned Database Application Development database application development projects.

Do you have an existing database driven software product that isn't integrated with your business software applications? Could you use some help with database integration or custom database development in New Hampshire? Or maybe you want to add custom database software to an existing MSSQL, Oracle, MySQL, PostgreSql, or Access database solution? ISG's database application development team can help you design, develop, and install custom database software tools that will provide access to all of your business data. We can build custom reporting systems off of nearly any database, even proprietary legacy data structures. We also build integration software for custom database software and orphaned database software applications, in many cases even if source code is not available. If you want to reduce or eliminate errors and wasted time caused by redundant data entry processes, we can help. Our database integration professionals have years of experience and know how to create efficient, reliable data sharing applications. We also provide NH data warehouse development and NH data mining solutions That can help offload transaction processing from busy databases, increase overall database performance, and provide targeted, intuitive business intelligence reporting.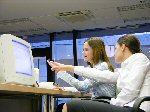 Need help getting your database requirements organized? Do you want to get more out of your database applications but aren't sure where to start? Do you need to integrate stand alone databases to get more meaningful information from ineffective reporting systems? If so, ISG can help. Our experienced database consultants will help you create a detailed database design that addresses the exact needs of your business and our custom database software developers will work with you and your staff (or independently if preferred), to develop, test, install, and implement the software defined in the requirements.
ISG provides New Hampshire database development service for desktop business database software and custom database driven websites for eCommerce and other specialized web applications. Contact ISG today for a free, no obligation basic database development consultation. We will review your requirements and attempt to provide a preliminary design and estimate for your custom database software development or integration project.