New Jersey Conceptual Database Design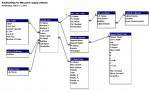 Searching for a reliable database development, database consulting or database design company in New Jersey? We are a Massachusetts based custom database application development company serving locations throughout the US. We currently work with New Jersey clients and can assist your organization with custom smart client and database driven website applications. Our database consultants and database design team can analyze your business requirements and help you design and build B2B and B2C eCommerce applications, or custom Intranet software designed to improve your internal work flow. our custom database solutions are designed and built with reliability in mind and come complete with data model, data dictionary, ERD documentation.
The Integrated Solution Group, Inc. provides custom database software development for a wide variety of industries. We have developed hundreds of custom, database driven, business and eCommerce software applications for our clients and we can build a solution for you. If you have a business software problem, or if you have an idea for custom database software that will help streamline your business operations, ISG can design and build the appropriate database software for you. ISG also specializes in work flow tracking software designed to monitor your business operations and issue warnings when important tasks are not being completed in the required timeframe.

The first step in a custom database development project should be the creation of an effective software design. This specification should include a database design, a user interface design, a business rules processing design, test plans, implementation and training plan, and the necessary hardware acquisition / deployment plans to make the project a success. The database designer should build a conceptual database design and use a data modeling tool to insure that the relational database design and indexing structures are correct. Use of additional performance tools such as data grids, stored procedures and triggers also need to be carefully planned during the database design phase. Other considerations also need to be included in the design, such as SSL for web database development and appropriate security for all custom database software.
Our database development staff can help you develop custom database software applications to power your business and our database consultants and database designers can help you resolve issues with your existing database applications. Call ISG today to find out how our database development services can benefit your organization.