Ohio Database Integration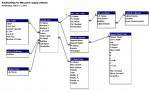 Quality relational database development requires a solid conceptual database design and the supporting database model anad database dictionary. The Integrated Solution Group provides database design and database development services throughout the US, including Ohio. Our experienced professionals can help with your database application development or web database programming for your B2B or B2C eCommerce web site. Contact ISG to find out how our database consultants and database design team can analyze your business requirements and help you design and implement a database solution that will improve the performance of your business systems. ISG custom databases are designed and built with performance in mind. Our databases are fully normalized and we use the latest data handling techniques to optimize performance and reliability. We also use custom third party display, grid and dashboard controls to further enhance our database products.
Need help with database design and custom database development? Having trouble organizing your important business data? Are your customers frustrated because they can't get the information they need when they need it? Is your staff complaining that your business reporting system doesn't provide critical information required for decision making? If your answer to any of these questions is yes, then you should consider professional database design and database consulting services provided by The Integrated Solution Group, Inc. Our experienced database designers will help you evaluate your business data and create a conceptual database design and relational database design tailored to the actual requirements of your company. The ISG database design team will work directly with your staff to create a custom database design that will improve the accuracy of your reporting systems and our database integration specialists will insure that you get your valuable data from those difficult stand alone systems.
Do you have an existing database driven software product that isn't integrated with your business software applications? Could you use some help with database integration or custom database development in Ohio? Or maybe you want to add custom database software to an existing Access, MySQL, or MSSQL database solution? ISG's database application development team can help you design, develop, and install custom database software tools that will provide access to all of your business data. Our experienced database consultants will help you organize your business requirements and define your database integration needs, and our database programmers can build a custom database software application that will help you run your business.
ISG has provided custom database development and database design services to a wide variety of clients since 1993, and we service what we build. Our database integration experts have years of experience and can find solutions to connect all of your business software products.