Wyoming Database Designer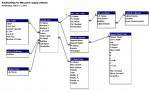 Looking for a company that can provide database services in Wyoming? If you have a challenging database development or database integration project ISG can help. We have hands on experience designing, constructing, and implementing complex database driven smart client and web based applications. Our custom software products are designed with reliability and performance in mind. We can work directly with your existing software development team in Wyoming or, if the situation dictates, develop your custom database application at our facilities in Woburn, MA. We are accustomed to working remotely and maintain a robust development/test environment to facilitate working remotely. We also use web tools such as GotoMeeting to allow our remote clients to directly participate in design and test sessions, including taking actual test drives of the software as it is being developed.
Wyoming Database Designer

The first step in a custom database development project should be the creation of an effective software design. This specification should include a database design, a user interface design, a business rules processing design, test plans, implementation and training plan, and the necessary hardware acquisition / deployment plans to make the project a success. The database designer should build a conceptual database design and use a data modeling tool to insure that the relational database design and indexing structures are correct. Other considerations include SSL for web database development and appropriate security for all custom database software.
Do you have an existing database driven software product that isn't integrated with your business software applications? Could you use some help with database integration or custom database development in Wyoming? Or maybe you want to add custom database software to an existing Access, MySQL, or MSSQL database solution? ISG's database application development team can help you design, develop, and install custom database software tools that will provide access to all of your business data.

Problem identification and resolution is often a difficult task for busy executives. In many instances it is advantageous to have the assistance of a knowledgeable, unbiased database development company experienced in database design. Since 1993, The Integrated Solution Group has helped numerous organizations identify and resolve complex business problems. ISG database developers and database designers have hands on experience in a wide variety of environments ranging from large automated warehouses to sophisticated customer contact centers. We can help you identify and resolve problems with your business processes, database integration, information systems, or technology utilization. Contact ISG today to find out how our database development team can improve business performance in Wyoming.