CommerceLink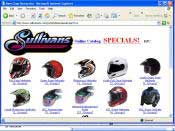 CommerceLink is a business to business eCommerce software solution for wholesale distributors, their dealers, and their vendors. CommerceLink is designed to interface your B2B web site with your business software and features a true database driven online catalog. If you find that CommerceLink doesn't fit your unique needs, contact The Integrated Solution Group, Inc. We can evaluate your needs and our web database development team can develop a custom eCommerce software solution tailored to your precise needs.
The software can run both standalone or connected with your business system. The standalone option accepts orders from customers over the Web without having to invest in costly lease lines or in-house Web servers. The connected option allows users to price their orders, check availability, and obtain customer service on-line, via the Internet.
CommerceLink stores your catalog data in a Microsoft SQL Server database providing rapid, industrial strength product lookups without slowing down your business system. Additionally, the information you can store in the catalog includes pictures, extended descriptions, hyperlinks, and other information that isn't typically provided by the business system.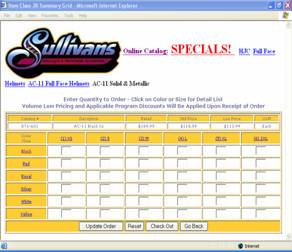 CommerceLink comes with a host of advanced features that other e-commerce products don't have. Our mission with CommerceLink is not just about getting your business on the Web. It's about getting you more business and lowering your selling cost. We accomplish this mission by providing your customer with a catalog that is powerful, easy to use, and time efficient. Additional features such as drop ship processing enable your dealers to private custom services using your products.
CommerceLink can run detached or integrated with your business system. Running detached gets you up and running quickly at a modest cost. The integrated option can be added later to provide order and shipping information, online pricing and real time inventory availability.
Receive your orders by FTP, e-mail, fax, or by direct insertion into your business system. Direct insertion is supported in both EDI and XML formats.
Display specials and custom ordering forms. Why burden your customer with searching through thousands of items when they always order the same few items? Our built in expert can identify buying habits and build a custom order sheet automatically.
Query accounts receivable, order status, and customer service information. Reduce your costs and expand your customer service coverage at the same time. (requires business system integration).
Experience multi-level product drill-downs. Unlike most business systems that store a single product class code, CommerceLink will handle up to five. Your customer can quickly drill-down through millions of SKU's to get to the product he needs.
Provide product pricing and availability (requires business system integration). Your customers can price their orders using your business system's pricing rules and can check on availability in real-time.
Order using our size/color matrix display. Do you sell products in colors or sizes? Wouldn't it be convenient if your customer could order from a color or size grid? CommerceLink supports this feature by product class providing convenience and flexibility.