Custom Software Developement

Are you losing business to the competition because of ineffective business software? Do your customers complain about poor service while your telephones ring continuously and your employees complain about being overworked? Maybe we can help.  The Integrated Solution Group has developed hundreds of custom software solutions for its clients, including time saving applications like work center management, custom form scanning software, automated fax and email response systems. Our software integration solutions allow for sharing of vital customer service information, and we can provide custom eCommerce software solutions that empower customers to enter orders, check status', pay bills, and perform an array of tasks normally handled by your customer service personnel, all saving you time and money. Most importantly, our custom business software, custom eCommerce software, and other custom software solutions will help you regain a competitive advantage over the competition.
Since 1993, The Integrated Solution Group, Inc. has specialized in custom software development for a wide variety of industries. During that time we have developed hundreds of custom business software, applications, custom database software, and custom eCommerce software solutions for our clients. If you have a business software problem, or if you have an idea that will help streamline your business operations, ISG can design and build the appropriate software for you. Our custom software solutions include, but are not limited to the following: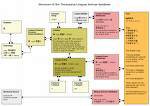 Database Development: ISG provides database development services for MSSQL, MySQL, and Access databases.  We use the latest development technologies including .NET, ASP.NET, and VB.NET to insure that your custom database application will function properly. ISG' software development life cycle methodology includes documentation of your project objectives, a comprehensive study of your business processing rules, a detailed system design including user interface requirements, processing rules and requirements, database design and database model, as well as detailed testing and implementation plans. Our experienced database developers can work directly with your in-house staff or, if the situation dictates, develop the entire project from design through training and implementation.
Custom Business Software: ISG business software solutions are designed to solve business problems not addressed by standard, 'off the shelf' software. ISG has built numerous custom accounting software solutions and customized call center applications for prestigious companies such as H.H Brown and The Cross Country Group. Recently completed custom software development projects include a custom form scanning software application and a custom eCommerce software web site.
Custom eCommerce Software: Business solutions for the world wide web. In addition to designing and building custom eCommerce web sites and web database development, ISG also distributes CommerceLink, a customizable eCommerce software solution.
Warehouse Management Software: ISG has developed sophicated inventory control and warehouse management systems for a variety of wholesale distribution requirements including a conveyorized 460,000 SF warehouse with 50+ radio frequency bar code scanners and custom bar code software designed to control all warehouse functions.
The Integrated Solution Group has provided custom programming services and developed custom software solutions for numerous organizations ranging from small businesses to Fortune 500 companies, and we can help your business.
ISG custom software is designed and built in America and we service what we sell.
The Integrated Solution Group, Inc. – Custom Software Developement for Your Business.